News and Updates
Firmware Update for Time Zone Issue
New version of TR610 firmware (5.00.00) is released for conformity to the current AggreGate timestamp mechanism. The timestamp is now unified as UTC time and TR610 can be set to its local time zone for correct time disply. For all AggreGate versions before version 4.50.00, you should still use the older firmware (4.00.01), for all versions after, you should use the latest firmware.
New TR610 Firmware and Manuals
We have just posted a new major version (3.03.00) of the TR610 firmware, along with its source code. This is a major release, bumping TR610 from 2.x to 3.x, and adding a new "white list" feature. The manual has also been extensively updated. Get the files at the Downloads page.
New TR610 Firmware
We have just posted a new version (2.02.05) of the TR610 firmware, along with its source code. It's mainly a bugfix release, with new LCD support and some changes in web login delay. Get it at the Downloads page.
New TR610 Model with Mifare
In addition to the existing TR610R, we have now released the TR610MF equipped with a Mifare proximity reader.
Connectivity
The TR610 comes with a 10/100 Base-T Ethernet port. Other than its on-screen menu system, there are two main ways of communicating with the device using the network:
AggreGate
AggreGate is an advanced software system with a Time and Attendance module that works very well with TR610 — they were made for each other. AggreGate has its own page on this site.
Embedded Web Server
When the TR610 is set up, it acquires an IP address automatically (you can assign one manually, too). This address can then be used to access the device from any standard Internet browser (Internet Explorer, Mozilla Firefox, etc). Once the administration password is entered, the user sees the built-in administration interface: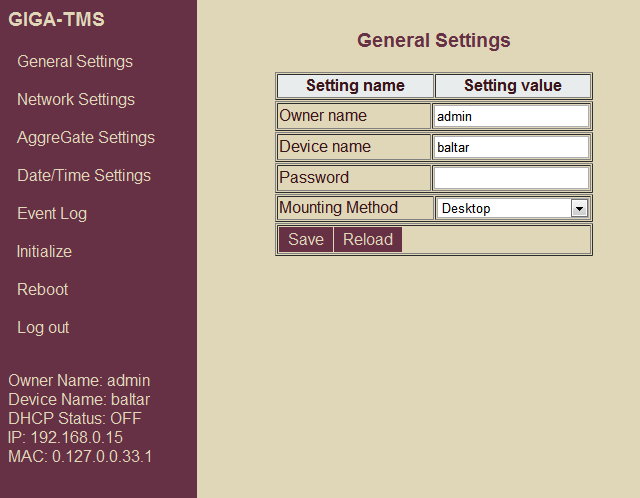 The web interface allows for any and all administrative operations. Records may be downloaded and searched, the time can be set, network parameters adjusted, etc.
© GigaTMS 2008 Tel: 886-2-26954214 E-mail: promag@gigatms.com.tw